The story of Reinhard Frans is a journey that began in the aftermath of the financial crisis in 2008 and evolved into a thriving shoe brand distinguished by craftsmanship, innovation, and passion for artisanal footwear.
In 2008, the financial crisis profoundly transformed the landscape of the fashion industry. Consumers became more discerning and sought greater value for their money. It was during this moment that Reinhard Frans emerged as a new shoe brand determined to conquer the market with handmade shoes of unparalleled quality and innovative design, all at a competitive price.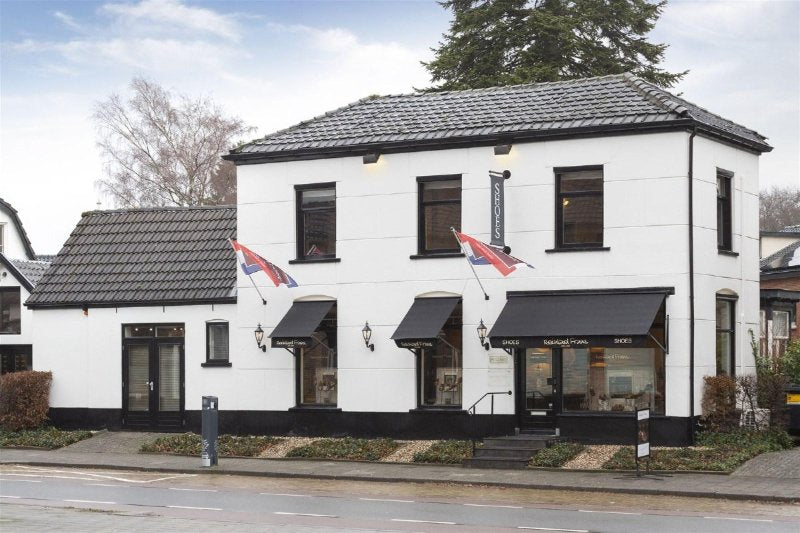 The first Reinhard Frans brandstore at Soerenseweg 28 in Apeldoorn, 2012.
Reinhard Frans had accumulated a wealth of experience from the world's finest shoemakers. He had learned from master shoemakers in England, Austria, and Italy, who crafted shoes that sold for thousands of euros. These masters shared their secrets of selecting the finest hides, naturally tanning leather, and using long-lasting sole leather. This knowledge proved to be invaluable for the future of Reinhard Frans.
With an unprecedented passion for the product, Reinhard Frans established his own workshop, where all materials were carefully sourced, and each pair of shoes was handcrafted. He believed that a handmade shoe is not just worn; it carries the person who wears it.
In 2020, a new era dawned for Reinhard Frans with the launch of the "Soho" sneaker. This innovative sneaker combined artisanal materials with a revolutionary design that allowed for "easy-entry" without using laces or buckles. It became a great success and set the stage for further innovations.
In 2023, a new Italian workshop was opened. Here, the ultimate Italian luxury shoe line, "the Artisans," is crafted, with every detail tailored to quality and durability. Handmade calf leather shoes with crocodile patterns were dyed using more than five different pigment types, resulting in beautiful warm shades.
Introduced in 2022, this Artisans collection garnered praise from customers drawn to the designs, fits, materials, and finishes. This enthusiasm led to a decision in 2023 to significantly revamp the entire collection.

In late October 2023, Reinhard Frans proudly introduces the new standard for the brand - an extensive collection of Artisans representing classic footwear. While the original fits and popular models are retained, they are renewed and enhanced to meet the highest standards.

A unique feature of Reinhard Frans is the ability for customization, allowing customers to create their own shoes. This is presented in a revamped way in all boutique stores.